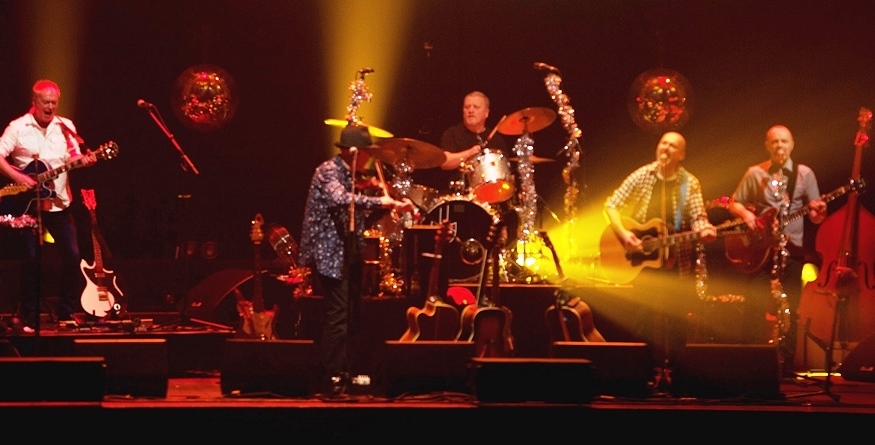 Meet Me On The Corner, Lady Eleanor, Run For Home, Fog On The Tyne: songs that continue to resonate down the years and in the process slip into the very fabric of British culture. 
Just fire up the opening lines in any saloon bar, and you'll soon have a crowd singing along.
The opportunity returns this year with a 34-day 2020 tour of the UK and Ireland by Lindisfarne.
The very timelessness of the acoustic rock legends' songs renders it almost incredible that 2020 marks the band's 50th anniversary.
But here they are still, entertaining the crowds with an extensive repertoire of great songs delivered in an inimitably engaging way that's trademarked their stage act right back to 1970.
That's when band writers Alan Hull and Rod Clements emerged from Tyneside to quickly carve out a unique place for themselves fronting one of British rock's most original bands.
Their pioneering sound, combining acoustic instruments like mandolin and fiddle with their electric blues roots, proved the perfect medium for their catchy, memorable songs.
The Clements-penned hit Meet Me On The Corner paved the way for their classic Fog On The Tyne release to become the UK's top-selling album of 1972.
More fine albums on the (equally legendary) Charisma label were to follow, buoyed up by powerful live performances and an unpretentious style.
Worldwide success and an enviable reputation as festival favourites were to follow, while the annual Christmas concerts they presented in their native Newcastle became the stuff of legend.
Fast forward to 2020 and today's band comprises a classic five-piece line up of long-time members fronted by original founder-member Rod Clements (vocals, mandolin, fiddle, slide guitar), Steve Daggett (vocals, guitars, keyboards), ex-Roxy Music Paul Thompson (drums), Ian Thomson (bass) and Alan Hull's son-in-law Dave Hull-Denholm (vocals, guitars, piano).
Hull himself died of a heart attack on the 17th November 1995 at the age of 50.
This tour then is not only a 50th anniversary celebration, it's a grateful acknowledgement of a fallen comrade – one without whom none of this would be happening on the 25th anniversary of his passing.
LINDISFARNE TOUR DATES 2020 – UK AND IRELAND
20/03/2020
Porthcawl
Grand Pavilion
21/03/2020
London, West Kensington                   
Nell's
22/03/2020
Hastings                                              
St Mary in The Castle
18/04/2020
Stockton                                             
ARC Theatre
25/04/2020
Masham                                              
Town Hall (SOLD OUT)
08/05/2020
Milton Keynes, Wavendon                   
The Stables  (SOLD OUT)
09/05/2020
Bury St Edmunds                                
The Apex
24/05/2020
Stanhope                                            
Northern Kin Festival
30/05/2020
Uttoxeter                                             
Acoustic Festival of Britain
31/05/2020
Bilston                                                            
The Robin
05/06/2020
Wirral                                                  
Folk Festival
07/06/2020
Glasgow                                              
Cottiers
17/07/2020
Brampton                                            
Music on the Marr
23/07/2020
Swaledale, Reeth                                 
Tan Hill Inn
15/08/2020
Aldeburgh                                           
Snape Maltings
30/08/2020
Shrewsbury                                         
Folk Festival
12/09/2020
Shoreham By The Sea                         
Ropetackle Arts
13/09/2020
Devizes                                               
Rock Against Cancer
19/09/2020
Bradford                                              
Cathedral
20/09/2020
Keswick                                              
Theatre By The Lake
03/10/2020
Goostrey                                             
Music and Arts Festival
31/10/2020
Dublin                                                             
Liberty Hall Theatre
01/11/2020
Belfast                                                 
Empire Music Hall
07/11/2020
Lowdham                                            
Warthogs
21/11/2020-22/11/2020
Kinross                                                           
Backstage at the Green Hotel
26/11/2020-27/11/2020
Liverpool                                            
The Music Room The Philharmonic
28/11/2020
London, Putney                                  
The Half Moon
29/11/2020
Skegness                                            
Butlins Great British Folk Festival
05/12/2020
Clitheroe                                             
The Grand
06/12/2020
Carlisle                                               
Old Fire Station
11/12/2020
Morecambe                                         
The Platform
18/12/2020-19/12/2020
Newcastle-Upon-Tyne                          
City Hall Christmas Shows
Issued March 2020 by Singsong Music Marketing   www.singsongmusic.com
Contact: Peter Muir email info<at>singsongmusic.com tel 07730 447135
Available for interview:
Rod Clements and Dave Denholm-Hull on the Legacy of Alan Hull
Rod Clements on the Story of Lindisfarne
Further information:
https://en.wikipedia.org/wiki/Lindisfarne_(band)