"…there's more enough stellar axe work to pull in the rock punters …" AllMusic
The title of Savoy Brown's 1968 release 'A Step Further' resonates when it comes to defining band bassist Tony Stevens' solo album, some 20 years later.
Reflects Tony, today: "I'd finished a spell back on the road as well as recording with Foghat and just thought, let's do something different."
And it was to be something of a 'family' affair. One of blues rock's finest bassists, Tony had an enviable book of contacts when it came to sourcing studio support.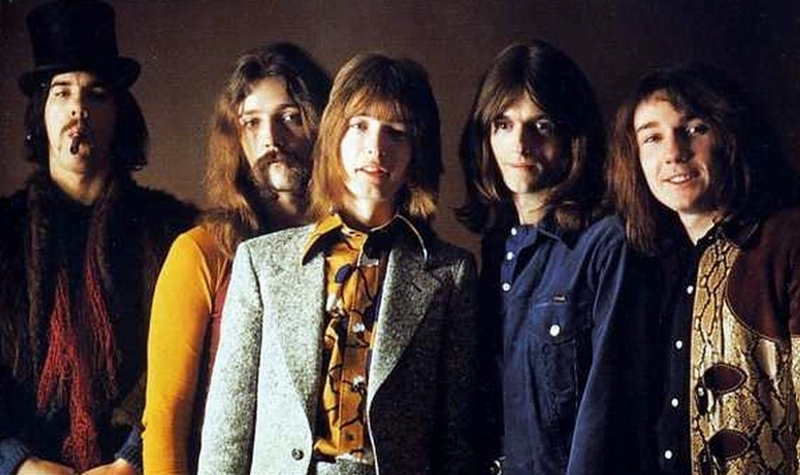 Tony (right) with Savoy Brown
For the original 'Don't Blame Me … I Just Play Bass' sessions he brought in two colleagues from his time a decade earlier touring and recording with former Family singer, Roger Chapman: guitarist Geoff Whitehorn and horn player, Nick Pentelow.
  Tony (left) with Midnight Flyer
Further connecting Geoff with Tony was the former's time touring with Maggie Bell: Tony was bassist in Maggie's late '70s super-group Midnight Flyer as was Anthony Glynn, who was to work on the new album, too.
Another member of the Chapman alumni, Glynn had worked with Leo Sayer, Asia 2 and latterly Mike Oldfield and was to bring some fine lead guitar work to bear on proceedings.
Pentelow had joined Roy Wood's band Wizzard in 1972 before moving onto Steve Gibbons Band, Gary Moore and Chapman, with whom he spent over 10 years touring and recording, An in-demand session player, Nick has also worked and performed with Elton John, BB King, and Bill Wyman's Rhythm Kings.
Also appearing on the album were stage and TV actor Allan Love and saxophonist Nick Paine.
Tony's own experience with Chappo dated back to 1984 when Roger asked him to join the band.
Tony played for nearly four years with Roger recording 'The Shadow Knows' (1984), 'Zipper' (1985) and 'Live in Berlin' (1989) and touring extensively across, playing major festivals across Europe.
After a stellar early career recording and touring with Savoy Brown and its successor Foghat, Tony wrote and recorded rock opera 'Fallout' with Allan Love, who had been in the stage production of 'Hair'; recorded the two 'Rock Follies' TV show soundtrack albums; put together Midnight Flyer with Maggie Bell and Nobody's Business with Bobby Harrison (Snafu, Freedom) and Joe Jammer (Supertramp, Stealers Wheel, Donna Summer).
A trained actor, Tony also appeared in a number of UK TV shows, including 'The Bill' and 'Eastenders'.
He recalls:
"I started working on Don't Blame Me back in 1988 when I came off the road with Roger Chapman, and got seven tracks laid down. But then the acting began to pick up, and then the Foghat reunion, it just got put on the back burner.
"In 1998, I was back in England and decided to finish the album with the help of my former Midnight Flyer guitarist, Ant Glynn.
"We finished it, mixed it, remixed it in the US, got introduced to Earl Slick who had worked with Bowie and John Lennon and set up a label and got a deal."
Mostly comprising top notch self-penned compositions and co-writes, "Don't Blame Me…" also includes covers of some of Tony's favourite songs including The Rolling Stones' "Under My Thumb" and perhaps even more quixotically The Beach Boys' dreamy "Sail On Sailor".
It's an eclectic and melodic  set spanning the boogie blues of Tony's early career by way of stadium rock, funk, pop and even period disco crossover.
'Don't Blame Me … I Just Play Bass' measures a more laid-back Tony Stevens with the focus firmly placed on the craft of song writing.
In interview, Tony remarked:
"My love is the slightly more commercial short song. You get in, get it done and get out and then you want to listen to all over again..
"If people like that kind of song they play it again and again, unlike the nine-minute extravaganza. I like a three-and-a-half minute song with good verses, a great hook line, and a great little bridge."
The qualities that shine through above all else are those of the album's musicianship which effortlessly interpret and carry its compositions.
Tony was to return to solo recording albeit in the shape of 'The Lost Masters', an album released in the US by a label specialising in '60s and '70s recordings.
"I loved making the album and the fact it gave me the chance to scope a bit and reveal more of my broader musical interests but I'm really a band man," he reflects.
In 2005, Tony formed Slow Ride in "the Foghat tradition", the band taking its name from one of Foghat's most famous songs and went on to record and tour.
Stream the album  via this link
Download the album  via this link
Artist: Tony Stevens
Title:   Don't Blame Me … I Just Play Bass
File:     Rock
Format: Digital Album
Label:  Singsong Music
Cat:     SINGSONG132
UPC:   5060683670520
Rel:     November 27th 2020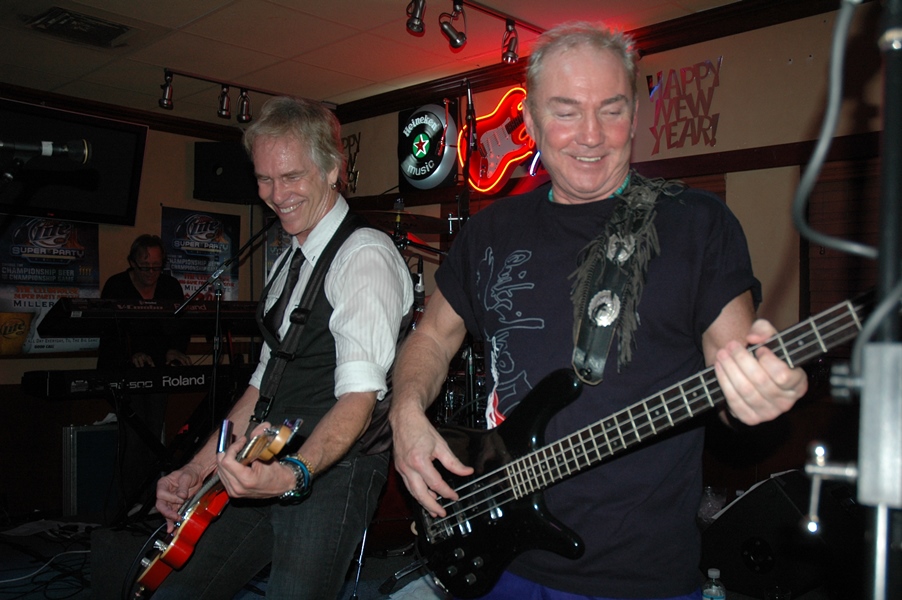 Tony (right) with Billy Livesay in Slow Ride
Check out more about Tony's work with Maggie Bell in Midnight Flyer  via this link