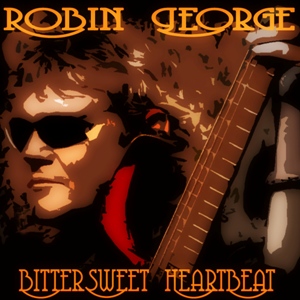 It's just all from the heart with guitarist Robin George.
The acclaimed virtuoso and collaborator with mainstream artists including David Byron, Glenn Hughes, Robert Plant, John Wetton and Phil Lynott ushered in  Guitar Techno Rock with seminal 1985 debut album 'Dangerous Music' and worldwide hit, "Heartline."
Now he's back, returning to the rock scene this March (2020) with latest solo album, 'BitterSweet Heartbeat' (Singsong Music, SINGSONG101, 27.3.20)
A successful producer (Diamond Head, Asia, Quartz, Witchfinder General) as well as songwriter, Robin's new album – recorded at his studio in Malaga, Spain – is equally innovative, featuring his trademark blazing virtuoso rock guitar coupled to memorably melodic compositions.
Robin is a true rock poet, evidenced by some soul-searching lyrics on this new album featuring the immense power drums of his stalwart companion in arms, Charlie Morgan (Elton John, Phil Lynott, Kate Bush, Pete Townsend, Gary Moore).
Lush production, mixed and mastered by the award-winning Klaus Bohlmann, ups the quality levels even higher, taking Robin to pastures new with 'BitterSweet HeartBeat', already pre-release being lauded as 'a fresh masterpiece by the master of his art.'
Robin's biography reads like a 'Who's Who' of British hard rock and metal: find out more at http://www.robingeorge.co.uk/
Artist:   Robin George
Title:    BitterSweet Heartbeat
File:     Rock
Label:  Singsong Music
Cat No: SINGSONG101
UPC:   5060683670148
Rel:      March 27th 2020
TRACKS
1 BitterSweet HeartBeat
2 SavageSong
3 Rock n Roll BusynessMan
4 Diva Machine
5 Read Between The Lines
6 RainBow Ridge
7 Cocoon
8 Freedom
9 Castles In The Sky
10 Early Daze
11 Belief
12 Home From The Wilderness
13 SummerTime Reggae Rule
Listen to the album on Spotify via this link: https://open.spotify.com/album/02qDdYxq3dbsknexpEYi0b?si=-HGVwT4xSSSmbtTHeUROiQ
View promo video for track "Cocoon" from the album at https://www.facebook.com/robin.george.3388/videos/2586270694985362/
Issued March 2020 by Singsong Music Marketing   www.singsongmusic.com
Contact: Peter Muir email info<at>singsongmusic.com

Available for interview:
ROBIN GEORGE
on his latest release + life in the studio and on the road with Byron, Lynott and more
Further information: