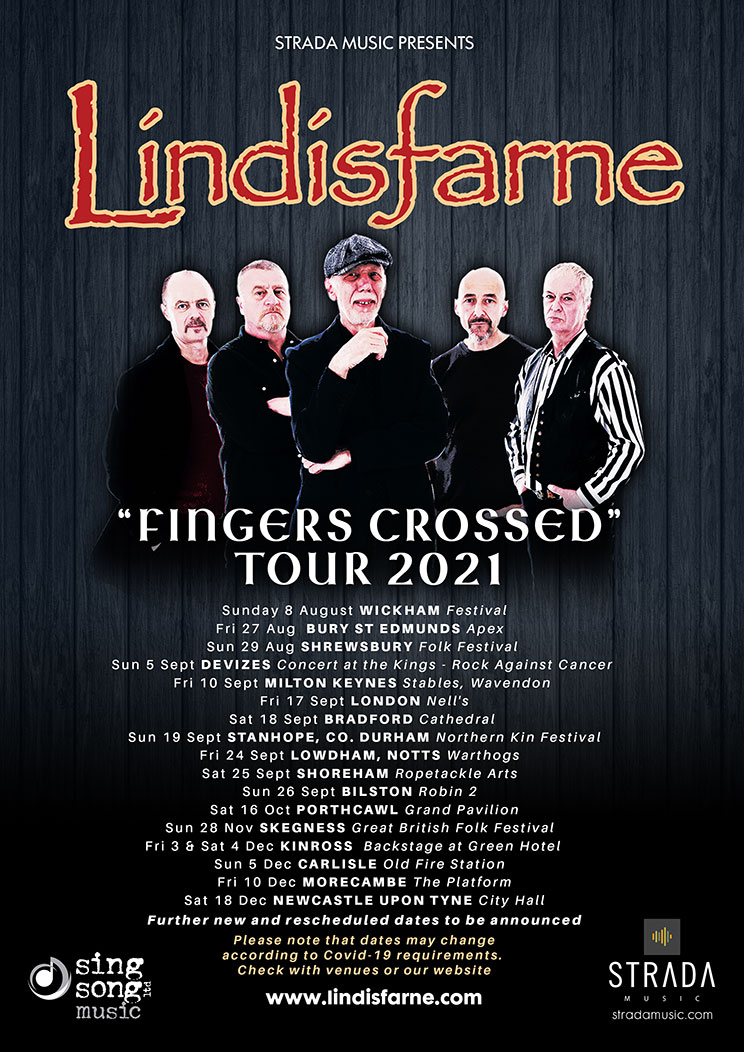 Acoustic rock music legends Lindisfarne have announced live performance dates for 2021 in what the band has jokingly dubbed the 'Fingers Crossed Tour'.
Signing up for the summer to winter dates are 18 venues, from Kinross to Shoreham and Porthcawl to Skegness. In addition to first time appearances by the band at Bradford Cathedral and Lowdham's Warthogs, the tour takes in many venues from last year's 50th anniversary tour postponed by the pandemic.
"We're looking forward to re-booting last year's birthday celebrations," says band co-founder, Rod Clements. "It really is time to party!"
Alan Hull commemorated in BBC TV documentary
The tour coincides with the production of a BBC TV documentary about band co-founder Alan Hull scheduled for airing this October (2021) to coincide with the 50th anniversary of the release of the band's seminal album, 'Fog on The Tyne'.
In the film, Brit award-winner Sam Fender explores the archives to discover the real Alan Hull. Also contributing are artist fans including Sting, The Unthanks, Elvis Costello, Kay Greyson and Mark Knopfler.
2021 Lindisfarne Dates
County                  Date       Town                     Venue                            Contact
Hants                     Aug 8       Fareham                 Wickham Festival            www.wickhamfestival.co.uk
Suffolk                   Aug 27     Bury St Edmunds  Apex                                  www.theapex.co.uk
Shrewsbury          Aug 29     Shrewsbury             Folk Festival                    www.shrewsburyfolkfestival.co.uk
Wiltshire               Sept 5      All Cannings           Rock Against Cancer      www.concertatthekings.co.uk
Bucks                     Sept 10    Wavendon               The Stables                      www.stables.org
London                  Sept 17    Hammersmith        Nells                                  www.nells.co.uk
Yorks                      Sept 18    Bradford                  Cathedral                         www.bradfordcathedral.org
Co. Durham          Sept 19     Stanhope                Northern Kin Festival    www.northernkinfestival.co.uk
Notts.                     Sept 24    Lowdham                Warthogs                          www.warthogpromotions.com
Sussex                    Sep 25      Shoreham               Ropetackle Arts              www.ropetacklecentre.co.uk
W. Midlands         Sept 26    Bilston                     The Robin                        www.therobin.co.uk
Mid Glam.             Oct 16      Porthcawl                Grand Pavilion                www.grandpavilion.co.uk
Lincs                       Nov 28    Skegness                  The Great British Folk Festival    www.bigweekends.com
Perth/Kinross       Dec 3/4   Kinross                    Green Hotel                     www.mundellmusic.com
Cumbria                 Dec 5       Carlisle                     The Old Fire Station      www.oldfirestation.carlisle.city
Lancs.                     Dec 10     Morecambe             The Platform                   www.lancaster.gov.uk
Northumberland  Dec 18     Newcastle                City Hall                           www.academymusicgroup.com
MORE DATES INFORMATION AT  www.lindisfarne.com
-ends-
ABOUT LINDISFARNE
"Meet Me On The Corner", "Lady Eleanor", "Run For Home" and "Fog On The Tyne" are all songs that continue to resonate down the years and in the process slip into the very fabric of British culture. 
But then Lindisfarne pretty much never went away and 50 years later continues entertaining crowds with an extensive repertoire of world-renowned songs delivered in the inimitably engaging way that has trademarked the band's stage act right back to 1970.
That's when band writers the late Alan Hull and Rod Clements emerged from Tyneside to quickly carve out a unique place for themselves fronting one of British rock's most original bands.
Their pioneering sound, combining acoustic instruments like mandolin and fiddle with their electric blues roots, proved the perfect medium for their catchy, memorable songs.
The Clements-penned hit "Meet Me On The Corner" paved the way for their classic 'Fog On The Tyne' release to become the UK's top-selling album of 1972.
Further acclaimed albums were to follow, buoyed up by powerful live performances. An accessible, unpretentious style bestowed them an enviable reputation as festival favourites, while the Lindisfarne annual Christmas concerts held in their native Newcastle became the stuff of legend.
Fast forward to 2021 and today's Lindisfarne comprises a classic five-piece line up of long-time members fronted by original founder-member Rod Clements (vocals, mandolin, fiddle, slide guitar), Steve Daggett (vocals, guitars, keyboards), ex-Roxy Music's Paul Thompson (drums), Ian Thomson (bass) and Alan Hull's son-in-law Dave Hull-Denholm (vocals, guitars, piano).