Great rock bands get to be via great songs, impactful performance and the sheer weight of being: in a word, 'pedigree'. It's particularly appropriate to British 1980s act, Midnight Flyer.
Prior to formation in 1980, its members had notched the likes of Stone The Crows, Streetwalkers, Whitesnake, Savoy Brown, Foghat, Hudson Ford, Jim Capaldi and Leo Sayer among many others onto their belts.
In short, Midnight Flyer was made up of vastly experienced musicians who, post its demise, continued to work with the cream of British rock.
The band constituted Maggie Bell (lead vocals), Dave Dowle (drums), Anthony Glynne (guitars), Tony Stevens (bass guitar) and John Cook (keyboards).
The line-up complete, the band entered into a lengthy period of rehearsal in preparation for recording this, their debut album, for Led Zeppelin's Swan Song label (Bell already being signed to it as a solo artist).
Starling Studios had been built by Ringo Starr at Tittenhurst Park in Ascot. Previously owned by John Lennon, the twenty-six room Georgian mansion and 72-acre estate boasted an eight-track recording studio and is best remembered for the recording of Lennon's 'Imagine' album in 1971.
Maggie Bell recorded her 'Suicide Sal' album at Starling Studio in 1974: so there was 'history'.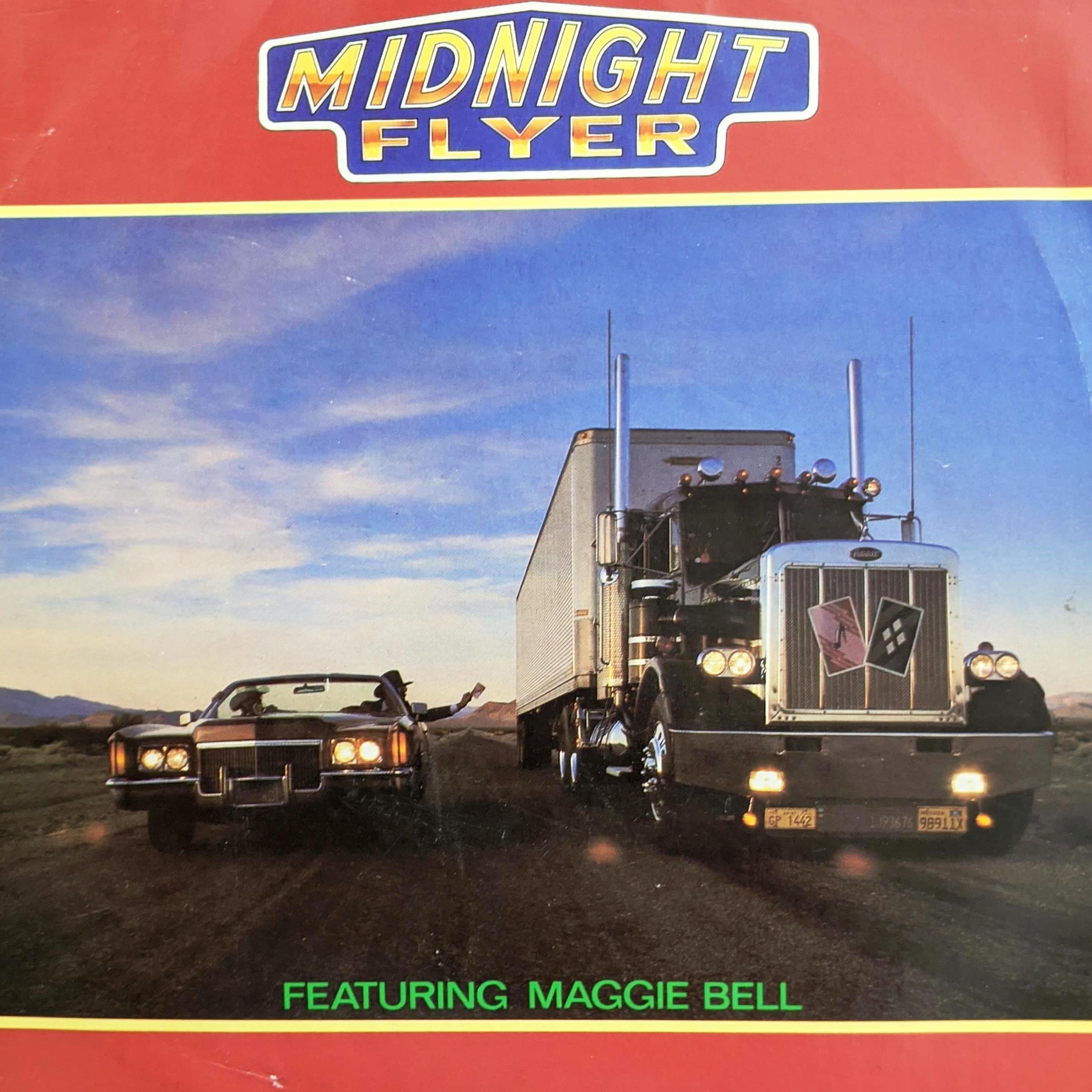 'Midnight Flyer' featured all original material with songs written by each band member.
Tony Stevens and Dave Dowle contributed three songs apiece. There was a John Cook composition and a co-write with Bell in 'Rough Trade' which was to be an album highlight. Ant Glynne also wrote a song with Maggie and two others with Dave Dowle. Production duties were handled by Mick Ralphs (Mott The Hoople, Bad Company).
After the album was completed, John Cook moved on and returned to playing sessions, to be replaced by Chris Parren.
Towards the end of the year, Midnight Flyer took to the road supporting Bob Seger and the Silver Bullet Band's 'Against the Wind' European Tour kicking off with two dates at the Wembley Arena before moving on to shows in Paris, Munich, Frankfurt, Brussels, Rotterdam, Hamburg and finishing in Dussledorf on 6th December.
The tour a huge success from the off, the band founds itself starting 1981 supporting AC/DC on a number of dates on the European leg of its 'Back In Black' Tour. Taking over from Whitesnake, Midnight Flyer played shows in Spain, Belgium and France.
'Midnight Flyer' was released in February to be followed in March by a single, 'Rough Trade' b/w 'Midnight Love'.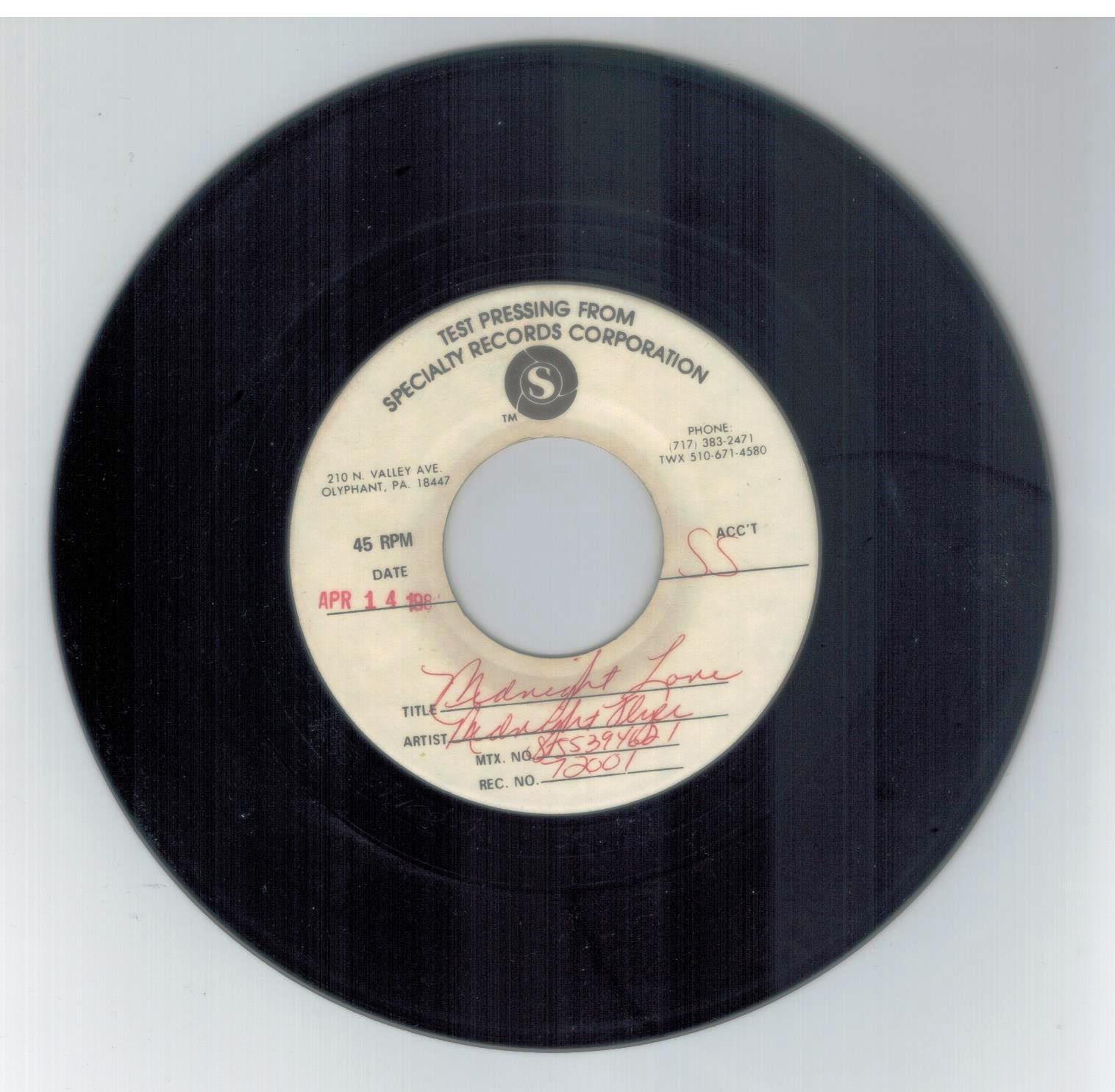 'Midnight Love' US promo
The band played a number of European dates including an appearance at the Montreux Jazz Festival on the 8th July, 1981, on a bill with Albert Collins, John Lee Hooker, Magic Slim and Taj Mahal.
In November, Midnight Flyer was asked to support AC/DC on a long-legged North American tour spanning November, 1981 to February the following year.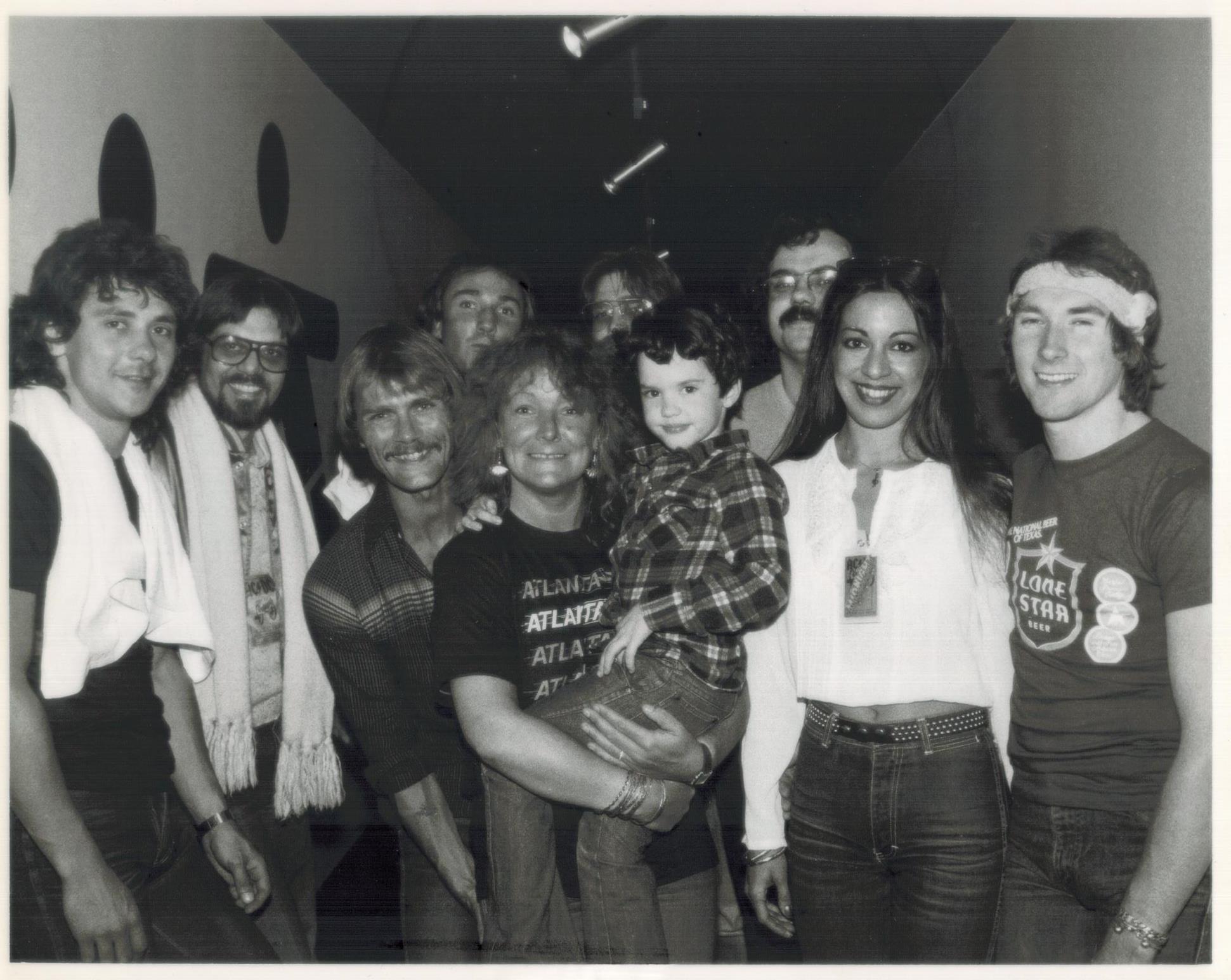 Midnight Flyer, Stateside, 1981, with crew, label reps, family
The 'For Those About To Rock' Tour, as it was known, played at mostly big arenas including New York's Madison Square Garden, the Spectrum in Philadelphia and the Cow Palace in San Francisco.
At the time of the tour Maggie Bell told the American press that opening for AC/DC on the first night of the tour at Detroit's Cobo Hall had been a pretty frightening experience before going on stage, but stressed how helpful the headliners had been.
"They've been very kind, letting us use their P.A. system and their lights. They're a modest bunch of guys off stage; they've been around for ten years now and they deserve their success," she related.
According to the article, Bell had known the Young family back in Scotland before they moved to Australia.
"That US tour was an incredible tour and a lot of fun," recalls Dave Dowle. "Those AC/DC guys were great. I expected them to be these wild men, hard drinking, whatever, but after what happened to Bon Scott they did everything to keep that stuff away."
Maggie described Midnight Flyer's sound as: "good, healthy rock 'n 'roll. We put a hell of a lot of energy into our show!"
Once the tour was over it was decided to release another single. 'Waiting For You' and 'Rock'n'Roll Party' were two unfinished tracks from the 'Midnight Flyer' sessions that were dusted off and completed. Unfortunately, events elsewhere were to have a bearing on the career of Midnight Flyer and these releases were to be the band's last.
Following the death of Led Zeppelin drummer John Bonham in September 1980 and the resultant demise of Led Zeppelin, manager Peter Grant had suffered depression and became reclusive. With his withdrawal came Swan Song's, Midnight Flyer's disbanding in 1982 a precursor to the label folding the following year.
But the musicians who made up Midnight Flyer all continued to work in the music business, and that inherent, collective 'pedigree' that hallmarked the band still shines on.
More on the album  via this link