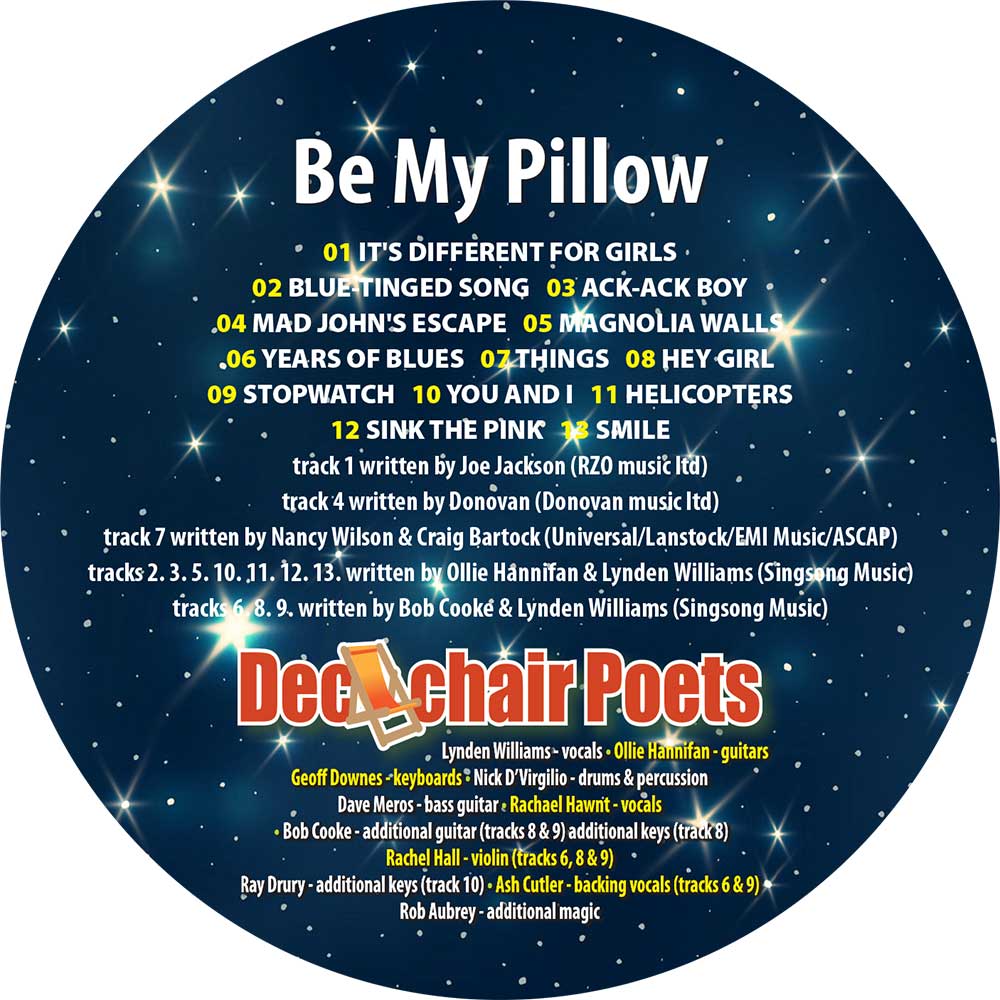 'Be My Pillow', the latest release from the prolific progressive rock ensemble Deckchair Poets measures not only the quality of material the band has stockpiled but its measure of music less frenetic, more laid-back.

It's a truly beguiling, accessible and highly commercial affair blending band compositions with sparkling covers of standards ranging from Joe Jackson's "Different for Girls" to Seattle band, Heart's "Things" by way of '60s troubadour Donovan.
DECKCHAIR POETS ARE …

Lynden Williams (Jerusalem) vocals, Geoff Downes (Yes)  keyboards; Ollie Hannifan (Mister Kanish), guitars; Nick D'Virgilio (Big Big Train), drums and percussion; Dave Meros (Spock's Beard) bass; and Rachael Hawnt (The Beautiful Secret) vocals.
Says Williams:
"We've always had material to hand in various stages of development and tracks are tried out against others to see how they sound together.
"Initially, I had no idea if we'd end up with a collection that would just be bin fodder," he admits. "I only knew we had to deplete the pile of laid-back songs we'd accumulated.
"A lot of friends and fellow musicians who've heard it regard it as our best yet. I personally think that this different road we've ventured down has led us to a wonderful little beach where we can dance with the penguins, whilst hugging our teddy bears.
"This album's one of those late night listening experiences, enjoyed as you drain the cocoa before falling into beddy-byes."
Artist:     Deckchair Poets
Title:       Be My Pillow
File:        Rock/Pop
Label:     Singsong Music
Format: Digital album
Cat:        SINGSONG154
UPC:      5060683670759
Rel:        January 14th 2022
TRACKS
01 Different For Girls
02 Blue-Tinged Song
03 Ack-Ack Boy
04 Mad John's Escape
05 Magnolia Walls
06 Years Of Blues
07 Things
08 Hey Girl
09 Stopwatch
10 You And I
11 Helicopters
12 Sink The Pink
13 Smile
More on the band at  www.deckchairpoets.com
This album streaming now  via this link