Singsong Music is delighted to welcome former Procol Harum guitarist Mick Grabham to its artist roster with a brand new solo album in 'Original Paint' (SINGSONG160; released January 14th 2022).
One of Britain's most respected rock guitarists, unsurprisingly Mick Grabham's contact book is impressive.
He has played alongside the likes of Jim Leverton, Graham Walker, Mick Weaver, Pete Wingfield, Nigel Olsson, Rick Wills and many more celebrated names.
Then there's his five-year membership of Procol Harum, prior to that Mick's own band Cochise – and push the time button further, '60s popsters Plastic Penny.
Over the years, Mick and friends, when not performing with their respective bands, got together in studios the length and breadth of England, laying down covers of favorites as well as getting new songs nailed.
With the quality of performers making up this illustrious roster, the outcomes are impressive. And now they are being released for the first time.
'Original Paint' sums up the ethos of this dip into the Mick Grabham archive: the real thing, unadulterated, unadorned, 14 tracks brimming with the kind of playing that only comes from professionals, used to working together, tight and fast.
Reaching as far back as 1972, this terrific release from Singsong Music charts Mick's 'downtime' from a super-heavy schedule or recording and performing, counter-balancing fresh interpretations of the hits of Bo Diddley, Holland and Dozier and Elvis Presley, instrumental John Barry along with self-penned compositions.
Says Mick:
"Researching and selecting this material has been fun even exhilarating at times to do but not without some sadness as there are talents you get to hear on this album that have passed.
"I miss my fallen comrades but I am grateful I have the memories of our times together and that I am lucky enough to be able to share those moments today."
Mick has written detailed notes for this album: about each track, who played on it and where, right down to which of his extensive guitar collection he played on the day.
'Original Paint' may fade with time but bring it out, clean it up, and the warmth and richness of its hues shine again, just as they were when the master's brush rendered them, back in the day.
ABOUT MICK GRABHAM: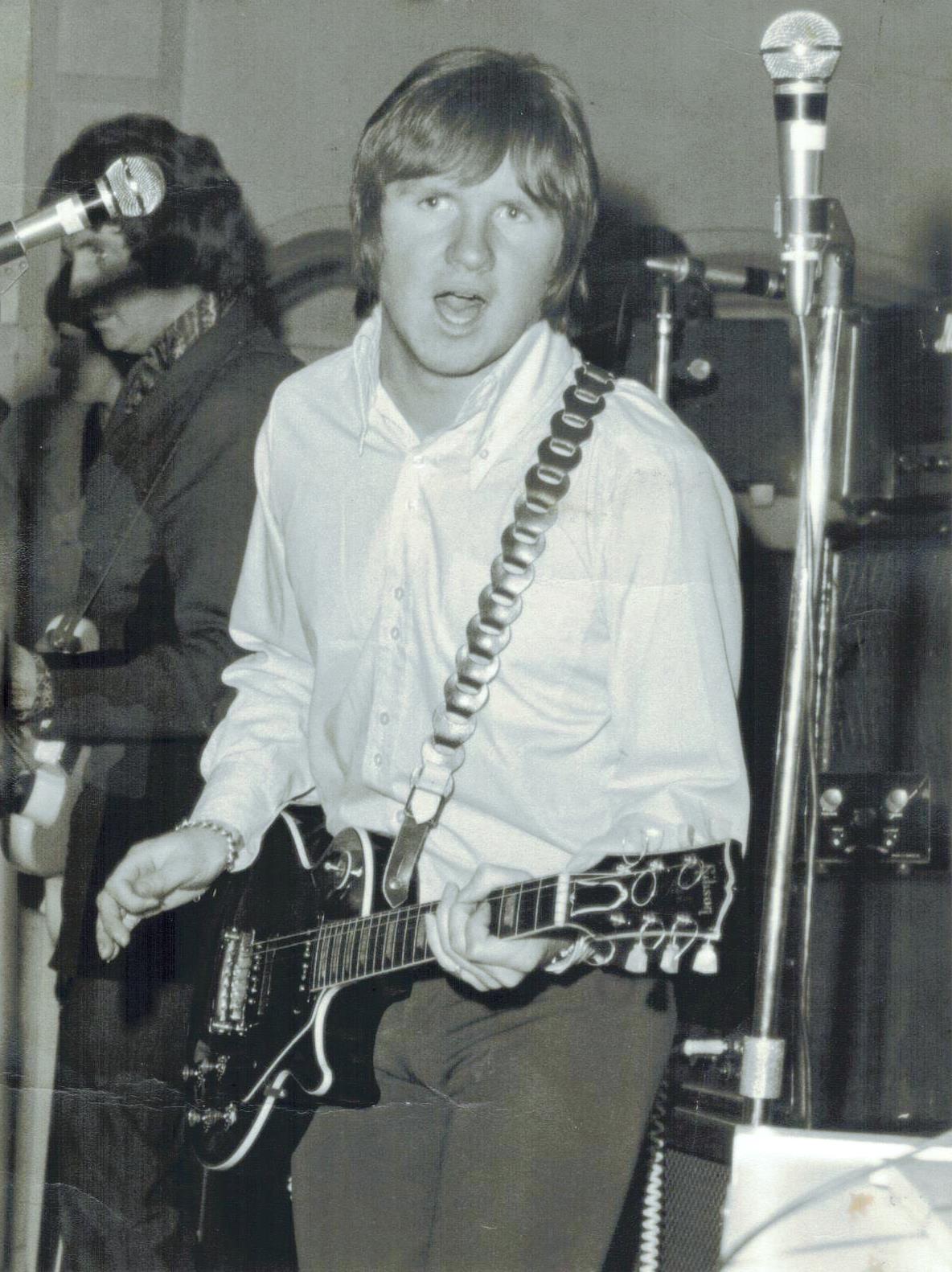 A native of Sunderland in north east England, Mick Grabham made for London the moment he realized he had both a passion and talent for music.
"Even before I left school, playing guitar was the only thing I wanted to do with my life," he reflects.
The opportunity jumped into view in 1967 when a chance encounter with the burgeoning Plastic Penny put him in a van with the band heading south, newly recruited as its lead guitarist.
They also required a drummer so Mick recommended his friend Nigel Olsson joining a line-up including Tony Murray on bass player (later to join The Troggs), Paul Raymond on keyboards (en route to Chicken Shack and UFO) and singer Brian Keith.
Plastic Penny released a couple of albums and had a hit with "Everything I Am" but succumbed to the whims of the times.
"There was so much going on then, so many opportunities, so many doors opening all over the place, so we called it a day and moved on as there was no shortage of work," says Mick.
Yet, while Plastic Penny agreed to call it a day, the band still had a further Germany tour to obligate. To meet this, Mick and Nigel recruited singer Stewart A Brown and bassist Freddie Gandy (both ex-Elton John's Bluesology) to the ranks and headed for the ports.
Such as the success of the return to Germany that Plastic Penny got re-booked there. However, by now Mick had his sights set on a new project and with Olsson off to join Spencer David Group, Brown to Chicken Shack and Tony Murray to The Troggs, Cochise sailed into view in 1969.
The talent kept coming with Willie Wilson later a member of Quiver picking up the drumsticks and Rick Wills (later to join Peter Frampton, Roxy Music, Bad Company and Foreigner) on bass.
A key component in the band's sound was the pedal steel guitar work of BJ Cole.
In interview later, Cole observed: "Mick masterminded the putting together of Cochise. His links with Dick James Music allowed us access to their demo studio in New Oxford Street. Elton John was recording his very first demos there.
"Mick was then, and still remains, a first-rate rock guitarist. His heavy rock style was tempered by a great respect for country guitarists like James Burton, and I just couldn't wait to get the pedal steel out of its straitjacket."
The interplay of this line-up was to give Cochise a unique instrumental sound.
A country band with heavy rock underpinnings, it fielded a yet wider range of influences, getting signed to United Artists and Clearwater Management joining a roster including Hawkwind, Trees, Skin Alley and High Tide.
Cochise's self-titled debut well received, the band got to work on its successor 'Swallow Tales' but not before recruiting a new singer in John Gilbert from Mighty Joe Young.
Cole and Grabham were becoming favoured session musicians by now, the latter working with Hookfoot and Ray Fenwick and befriending Elton John who had by now recruited Nigel Olsson to play alongside Dee Murray in his touring band.
Cochise's third album, 'So Far' coincided with further line-up changes and a drift to a funkier sound that did not play to the band's fans as ably as their former releases.
When American sing-songwriter Emitt Rhodes came to London, he recruited Mick to join his touring band.
"I was in his backing band with Ricky Wills and Tony Newman on drums," says Mick. "His first album was fantastic and I was very impressed with the way he dubbed and over-dubbed so many instruments, especially as he'd played all of them!"
The Rhodes experience prompted Mick to record solo album 'Mick The Lad'. Mick played most of the instruments and cut a later single in "On Fire For You Baby".
"It did nothing commercially but at least John Peel liked it" says Mick. It makes its return on 'Original Paint'.
Upon the demise of Cochise in 1972 Mick joined up with Ray Fenwick (at the time with the Ian Gillan Band) to form The Guitar Orchestra.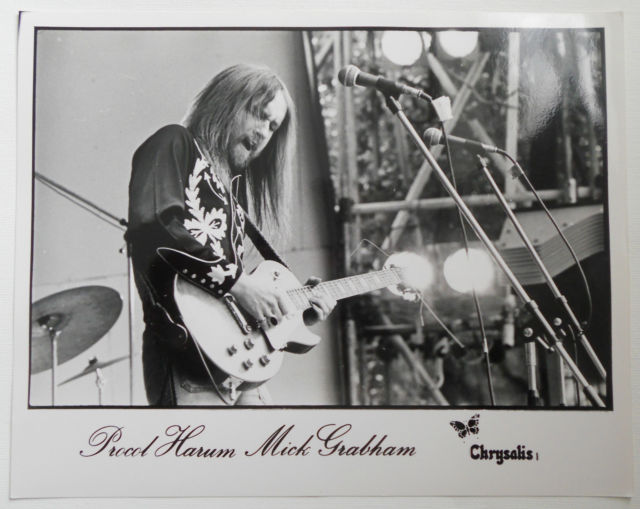 A year on and a call from Doug D'Arcy at Chrysalis consequented in Mick replacing Dave Ball at Procol Harum mid-recording for the band's album 'Grand Hotel'.
Mick's tenure with the band included recording Procol's 'Ninth' and 'Something Magic' and playing with the band on a number of world tours.
In between Mick played a lot of sessions and was a member of The Dukes and Bandit. "After that I was mainly playing with a little R&B act and then a tour with Fats Domino before forming Los Amigos with Rick Wills on bass and then working with Fast Buck in the 1980s."
In recent years, Mick has focussed on his highly successful amplifier business. "I custom-build or refurbish them for London specialist retailers," he tells us. "I've been working with the technology one way or another all of my life!"

ORIGINAL PAINT: Mick walks us through the tracks …
Ninety Nine Pounds (Bryant) I'm a big fan of Ann Peebles and the stuff she recorded with Willie Mitchell's Hi label. I got in old friends, drummer Graham Walker and bass player Andy Pyle (both late of Gary Moore's band) to record this version of "Ninety Nine Pounds" from her album 'Straight from the Heart' in 2001 at the Barn in Cambridgeshire a studio run by Kimberly Rew and Alex Cooper (Siouxie and the Banshees). This was engineered by Kimberly. Guitars: Gibson Les Paul / Vox AC15 / JTM45
All Shook Up (Blackwell/Presley) This arrangement was worked up by Jim Leverton and Steve Marriott (Jim was playing bass with Steve at the time). Singer John Gilbert, my old bandmate from Cochise, is on vocals with Jim on bass and another Bandit bandmate Theodore Thunder (no, really!) plus Ian Duck (Hookfoot) on harp. We recorded this in 1984 in Hertfordshire at the studio owned by progressive rock band The Enid run by Robert John Godfrey. An odd set up, but nice people. My abiding memory is of brown rice and aquaria! Guitars: Gibson Melody Maker / Vox AC30
Cadillac (Grabham) With Dave Clemenson on bass and Mike Baron on drums, both from Fast Buck who I played with for a while in the mid '80s. We recorded this in 1986 in a garage studio in Buckinghamshire. Guitars: Gibson Explorer / JTM45
Diamonds (Lordan) Both this and "Hit or Miss" were recorded on the same session in 1975 at AIR Studios in London. They feature the playing of the magnificent BJ Wilson on drums – intended as a kind of homage to that short period in the very early '60s when instrumentals featuring drum solos were actually hits. (Think "Let There Be Drums", "Big Noise from Winnetka" etc.) My long-time friend and cohort John Gordon is on bass with Pete Wingfield (Jellybread/Van Morrison/Everly Brothers) on piano and old friend Dick Parry (Pink Floyd) on tenor. Backing vocals were tracked later in the day by Doreen Chanter and the wonderful Madeline Bell. The track was produced by Rupert Hine who I'd recently worked with on Yvonne Elliman's album 'Food of Love'. Guitars: Fender Strat / AC30
Fool in Love (Grabham/Leverton) I had an idea for a verse, Jim had an idea for a chorus, we stitched them together and ended up with this song. Jim is on vocals and bass with Mick Weaver (Wynder K. Frog/The Greaseband) on keyboards, plus Jim's pal Terry Stannard on drums. Recorded in 1980 at Matrix Studios London. Guitars: Strat / AC30
Harlem Nocturne (Hagen) I always liked this tune. Graham Walker (Gary Moore) on drums and John Gordon (Bernie Marsden) on bass, along with Bob Peters (we played together regularly through the '90s) on piano. Recorded in 2005 at the Barn with Kimberley Rew engineering again. Guitars: Gibson Les Paul / Gibson GA40
Hit & Miss (Barry): for credits, read track 4. Same line-up etc.
I Can Tell (McDaniel) A Bo Diddley song, again with the boys from Fast Buck – Dave Clemenson, Mike Baron, and guitarist Andy Lock. All the regular lead licks are Andy with yours truly on rhythm/backing guitars and slide. Recorded at Shepperton Studios in 1985 with Billy Bremner (Rockpile) producing. Guitars: Watkins Rapier / Vox AC30
On Fire for You Baby (Elliott) A song by American singer songwriter David Elliott – I'd just produced his first album for Atlantic. This features Nigel Olsson and Dee Murray (RIP) on drums and bass (fresh from early success in the US with Elton John), along with Jimmy Hall (RIP) on piano – an old pal from the north-east. You can hear Jimmy's playing all over Kiki Dee's 'Loving and Free' album. Recorded at Philips Studios and released as a single that year in 1972. The song was later a number one hit in Canada for April Wine. Guitars: Gibson Les Paul / Fender broadcaster / AC30
Same Mistakes (Leverton) A really nice song written and sung by Jim Leverton. Another Matrix Studio recording from 1980 with help from Mick Weaver on keys and Terry Stannard on drums. The studio was situated beneath a Pizza Express near the British Museum and we had to evacuate it briefly during the session when the restaurant caught fire! The only time I've ever recorded using a transistor amp. Guitars: Strat / Roland JC120
Down On The Southside (Grabham/Gordon) one of a handful of demo tracks recorded in early '78 shortly after leaving Procol Harum this line-up was on the way to becoming a band but never quite got there. Featuring the great Scottish singer Jim Nellis along with John Gordon on bass and Ian Byron on drums, plus A.N. Other (forgotten sorry!) on keys. Co-written with bassist John Gordon and recorded at Matrix. Guitars: Strat / AC30
Stop In The Name of Love (Holland/Dozier/Holland) I had previously recorded a similar version of this song with Bandit for an album produced by Matthew Fisher which was never released. This has John Gilbert on vocals, Theodore Thunder on drums plus Jim Leverton on bass – I did a lot of stuff with Jim during that period. Recorded at the same session as "All Shook Up" at The Enid's studio. Guitars: Strat / AC30
Brand New Tango (Grabham) I'd had the basic idea for this since the late '70s and recorded it a couple of times over the years, this being the most recent version from 2005. This features old friends and bandmates Gary Brooker (Procol Harum) on piano and Rick Wills (Peter Frampton/Foreigner) on bass along with Graham Walker on drums. One of three tracks included here from an intended album which I've been halfway through for the last 15 years! Recorded at the Barn in Cambridgeshire, with Kimberly Rew engineering. Guitars: Strat / Les Paul / AC30 / JTM45
Trouble (Knight/Varnell) 1975 at The Who's Ramport Studio in Battersea and cut shortly after recording 'Procol's Ninth' there. Frederick Knight's follow up to "I've Been Lonely For So Long", this version features the wonderful Helen Chappelle on vocals along with Gary Brooker on piano, Chris Copping on Hammond, BJ Wilson on drums, Rick Wills on bass, plus Liza Strike along with Helen on backing vocals. The bass marimba on this track is the same one heard on the Procol Harum single "Pandora's Box". Guitars: Strat / AC30