Artist:    Johnny Warman
Title:      Walking into Mirrors
File:        Pop/Electronic
Newly signed to Elton John's Rocket Records, Johnny Warman's first solo album for the label, 1981's 'Walking Into Mirrors' made the Top 20 in a number of European countries and sold a respectable 100,000 copies worldwide.
Reminiscent of early Gary Numan with touches of Bowie, 'Walking into Mirrors' is a period-perfect essay in cold war/alien starkness.
Recorded at London's Townhouse Studios and The Record Plant in New York City, it features an impressive supporting line-up including Jerry Marotta, Tony Levin, Dave Lawson and Larry Fast with production duties falling to Johnny, Vic Coppersmith-Heaven, Hugh Padgham and Ian Cooper.
Critically-acclaimed on release, the album also included a Top 10 hit single in Australia for 'Screaming Jets', featuring Peter Gabriel whose influence on the album stylistically is evident throughout.
Ultimately, 'Walking into Mirrors' contrasting synth and drums, Warman's distinctive Bowie-esque vocals, and stupendous production values have stood the test of time.
"…still stands as a brittle, vital reminder of the fears that were part and parcel of the early Ronald Regan/Margaret Thatcher years, built around a chromatic sonic landscape that is as electrifying as it is evocative…"   Dave Thompson, Goldmine
.. foreboding and febrile and as invigorating today as it was on release…   All Music Guide
Buy and Stream this album now  via this link
Tracks
Walking Into Mirrors
Radio Active
Searchlights
Martian Summer
Screaming Jets
Three Minutes
Will You Dance with Me
(SOS) Sending Out Signals (Warman, Jerry Marotta)
Dancing Dolls
Fantastic Light
American Machines
Automatic Kids
King Robot
Future Fun (Live)
Here Come the Reds
Golden Lions
'Walking into Mirrors' – Johnny Warman's reflects on the album's 'genesis' 40 years on…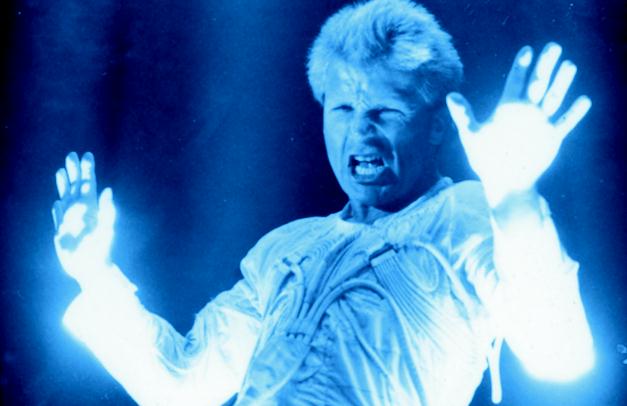 "I could have used any number of words to describe the birthing of this album but that one's on the money as the band played a part in its making," says Johnny from his home in Essex, England.
Engineer Hugh Padgham had just finished recording "Face Values" for the progressive giants, Phil Collins was choice for drums and Peter Gabriel was to guest.
All was set to record in December 1980 at Townhouse Studios in London. Collins unable to make the dates, suggested Jerry Marotta (Orleans, Hall & Oates and currently then drumming for Gabriel's band) be hired.
Jerry duly came on board the project along with Dave Lawson (Greenslade) who had by then embarked on a successful career in movie soundtracks with 'Star Wars' already in his credits.
It was a really tough start.
"The night before we went in to start recording Jerry, me and Dave Lawson were already at the studio when we heard that John Lennon had been shot dead. I remember Hugh remonstrating angrily with Jerry that it would never have happened in this country!  We would be starting my album in less than twelve hours and we were all distraught and very shocked."
But the show went on and by December 9th recordings had commenced with four backing tracks of drum, synths and guitar along with guide vocals put down.
"I had originally composed "Martian Summer" as an up-tempo rock song but Dave learned the chords and once he started playing them real slowly we realised that was the way forward," remembers Johnny.
"Listen carefully to the start of the vocal and you can hear legendary tape op George Chambers and his dog Lonely coming into the studio with the tea tray!
"We worked up before Christmas but didn't stop before Jerry recommended we bring his pal Tony Levin in on bass.
"That meant flying to New York City which was no issue for me as I would then choose Jimi Hendrix's studio, Electric Ladyland to work in. I had recorded my first solo album at Lennon's Tittenhurst Park and now this? It was mean to be."
Johnny was captivated by Jimi Hendrix at 16 years of age; after him play at London's Albert Hall and Olympia in 1967 he decided he wanted to be a rock guitarist.
Esconced in NYC, the ensemble took on a new member in Synergy keyboards wizard Larry Fast, a further member of Pete Gabriel's band.
The crew moved to House of Music studios in West Orange, New Jersey to finish tracks with Larry Fast, sharing the studio with Meatloaf and Southside Johnny and The Astbury Dukes.
After three weeks Johnny and Vic returned to The Townhouse Studios in London to complete the album.
Peter Gabriel checked in regularly with his colleagues at The Townhouse to see how they were doing, prompting Johnny one day to ask cheekily if he would contribute vocals on the album.
Johnny takes up the story:
"Peter was gracious and agreed but we went to New York and New Jersey and had so much going on that the matter became overlooked.
"We returned to The Townhouse in London when Peter calls and says he's on his way and we had forgotten all about it!
"In our haste to get things set up I realised the song had to be "Screaming Jets". Peter and I were of a similar age and the vivid TV memories of Vietnamese children with skin hanging off their backs after being caught by US napalm missile strikes haunted me. I related all this to Peter and he added so much to the song, it was fascinating working together like that.
"I'd written it quickly after watching the film Apocalypse Now and because I kept changing the arrangement in the studio I was shouting the chord changes to the musicians. Peter really loved that and together we worked out basic harmonies to sing during the chorus and middle sections."
The twisting and anguished harmonies sounded like the napalm fire dances exploding in the Vietnamese jungle to Johnny's ears and he had added crashing airplane effects from Larry Fast.
Johnny concludes: "Peter suggested the chant at the end of the song and "Screaming Jets" took off!"
Quite literally: released as a single it sold 76,000 copies and was a smash hit in Australia while the album itself went on to sell 100,000 copies worldwide.
After the release of 1983's 'From the Jungle to the New Horizons', John wound down solo work and went on to compose for others, including Cheap Trick, Starship, Sabrina, Prince and Vanity 6, Elaine Page, Ringo Starr as well as hard rock acts House of Lords and Asia.
In 2000, Johnny formed The Mods who played at the Steve Marriott tribute in 2001 and perform tracks from the 1960s. His more recent Mods & Rockers Touring Show prompted Time Out Magazine's accolade of it being 'Best 60s Tribute Band on the Planet" while Johnny's old label boss Sir Elton John cited his former charge as "The Best Human Jukebox on the Planet"!