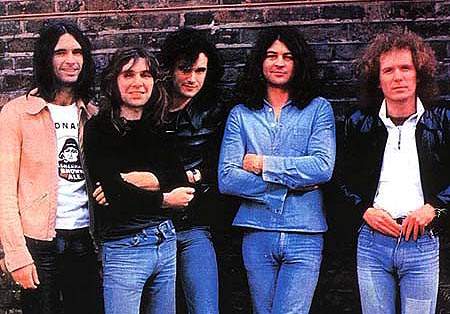 Artist:              Ian Gillan Band
Title:                Live At The Rainbow
File:                  Rock
The magic of Deep Purple vocalist Ian Gillan during his hiatus from the band is captured perfectly on 'Live At The Rainbow 1977'.
On stage at London's historic Rainbow Theatre with him that night of May 14th were session giant Colin Towns (keyboards, flutes); ex-Merseybeats and Quatermass's John Gustafson (bass, vocals); Ray Fenwick (Spencer Davis Group, Fancy) on guitars, vocals and New Yorker Mark Nauseef (ex-Elf) on drums, percussion).
In a packed house, Island Records boss Chris Blackwell, checking out his latest signing.
With this top flight line-up, the Ian Gillan Band was up promoting  second album 'Clear Air Turbulence' at this point and a few songs from this are featured here as well as Purple classics in Child In Time, Smoke On The Water and Woman From Tokyo.
It's inevitably a power-house set, distinguished by the band's tilting its material to jazz fusion and in the process shedding fresh light on timeless compositions.
'Live At The Rainbow' is the first in a series of live and studio demo compilations from Singsong Music, complementing the band's three studio releases to capture comprehensively this period in the career of one of rock music's most highly-regarded entertainers.
https://rayfenwick.com/biography/the-seventies-ian-gillan-band/
Tracks:
Clear Air Turbulence
Money Lender
Child in Time
Smoke on The Water
Woman From Tokyo
Twin Exhausted