They may have been relatively short-lived as rock acts go but the sole album release by British band Shoot still packs a punch.
Predominantly melodic country-rock, its only release 'On The Frontier' remit to mix things up steers the material additionally to jazz, psych and progressive genres to outstanding effect.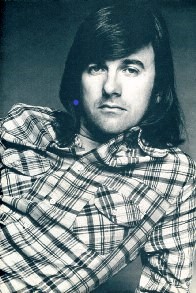 Formed in 1972 by ex-Yardbirds drummer Jim McCarty, Shoot boasted an impressive line-up culled from prominent period bands including Renaissance, Third Ear Band, Cochise, Manfred Mann's Chapter Three and Raw Material.
It numbered McCarty, guitarist Dave Greene, bassist Bill Russell and drummer Craig Collinge augmented by pedal steel guitarist BJ Cole, pianist John Tout and saxophonist Lyn Dobson amongst others. Collinge depping on percussion enabled McCarty to also cover vocals and keyboards (including the then-fashionable Mellotron).
Production values were high, too: engineered by John Leckie (Be-Bop Deluxe, Roy Harper, XTC) at London's Abbey Road Studios in 1973, "On The Frontier" stand-outs include opener "The Neon Life" with its soaring harmonies, the haunting and expansive "Sepia Sister", the arrangements of "Ships And Sails", and the title track itself.
Shoot folded by the end of the year, McCarty going on to form a reassembling of both Renaissance and the Yardbirds in the bands Illusion and Box of Frogs respectively, leaving behind this tantalising one-shot record of a beautifully-realised vision.
Performers
Jim McCarty: vocals, keyboards, persussion
Dave Greene: guitar
Craig Collinge: percussion
Bill Russell: bass
guesting
BJ Cole: pedal steel guitar, dobro
Graham Preskitt: violin
Lynn Dobson: horns
Bob Birtles: horns
Jon Tout: piano
Tracks
The Neon Life
Ships And Sails
Living Blind
On The Frontier
The Boogie
Midnight Train
Head Under Water
Sepia Sister
Old Time Religion
Mean Customer
SHOOT – Jim McCarty recalls …
Some drummers stay in the shadows. Others seek change from the kit stool, to come out and reveal their musical chops in other ways. One such was former Yardbirds drummer Jim McCarty.
Jim put Shoot together following his departure in the summer of 1970 from Renaissance whose original line-up had begun to fragment during the recording of second album 'Illusion'.
"The stresses of life on the road with the Yardbirds and then touring America with Renaissance plus a busy schedule at home and in Europe took its toll on both me and co-founder Keith Relf," he recalls.
While Renaissance continued with several transitional line-ups, the intention was that Jim and
Keith were to remain involved as writers and producers and, indeed, both worked on 'Illusion' with Jim also contributing songs to the band's 1972 release 'Prologue'.
Jim had meanwhile also started to write with Betty Thatcher, a friend of Keith's sister Jane, whose poetry could be adapted into lyrics.
Apart from a couple of co-writes on 'Illusion' he also wrote both sides of a single by Jane which appeared on the Decca label in 1971. "Without A Song From You," the A-side, was co-written with Betty while the B-Side, "Make My Time Pass By" was credited to Jim alone.
By 1972, Jim had decided he wanted to sing the songs he was composing at the piano. "It was a bit of a branch out for me as I had always just been a drummer, but I really wanted to sing my own songs," he recalls.
And so Shoot began to take shape, with Jim on keyboard and vocal duties, joined by guitarist Dave Greene, previously with Raw Material, bass player Bill Russell and Australian drummer Craig Collinge, who had been a member of Manfred Mann's Chapter Three and Third World War.
While less classically constructed, the new band's music continued with the brand of melodic progressive rock Jim had pursued in Renaissance.
The first the public came to hear of Shoot was a BBC Radio One session recorded for John Peel's "Sounds of the Seventies" in December. "Ships And Sails", "Neon Life" and "Stars and Sorrows" were broadcast on a few days before Christmas while a fourth from the same session, "Living Blind", was subsequently aired in the New Year.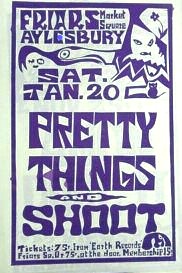 A few weeks later Shoot supported The Pretty Things at the legendary Friars Aylesbury during sessions at London's Abbey Road studio with further sessions taking place at Air London.
Licensed to major label EMI, the finished album was a finely-crafted affair that combined elements of
Country, psychedelia, jazz and prog-rock, fronted by West Coast harmonising replete with dobro and the jangling Rickenbacker sound synonymous with The Byrds.
Famous faces dropped by to augment the sessions.
"We were very lucky," says Jim. "The album was opened up enormously by horn players Bob Birtles from Max Merritt & The Meteors and Lyn Dobson from Manfred Mann along with pedal steel guitar and dobro maestro B J Cole and violinist Graham Preskitt, who had played up such a storm on Mott The Hoople's song "Violence."
Written by Jim McCarty, the upbeat "Neon Life" opens proceedings with galloping piano and sax while coming up behind "Ships And Sails" brought in layered harmonies and some fine guitar work.
Driven by the brass section, funky "Living Blind" builds nicely to be followed by the title track and its meld of Eastern vocalising with the jangle of the West Coast. The McCarty-penned "The Boogie" is just that but again with some fine harmonising.
With its dobro and fiddle, "Midnight Train" a song written by Jim and Dave Greene, tilts to Americana and is followed by the haunting sitar-sounding instrumental "Head Under Water" while "Sepia Sister" has a laid back psychedelic flavour.
"Old Time Religion," another McCarty composition, is built around lyrical piano from John Tout, who at that time was keyboard player in Renaissance, while jazzy "Mean Customer" closes matters in style.
Fun was had creating a style for the band via its artwork. "I was really pleased with the record company art department," Jim recalls.
"The album was released in a glossy gatefold leopard print sleeve with Indian artwork stylings and there was a wonderful shot of us resplendent in khaki reclining surrounded by pith helmets and a stuffed leopard.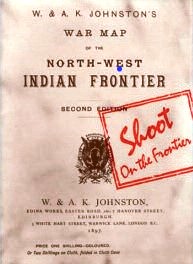 "Even the press kit was housed in a replica of an 1897 War Map of the North West Indian Frontier," he laughs. "It was great to have EMI really go for it with the cover art!"
While the market for the musical melange of 'On The Frontier' was out there, Jim accepts matters conspired against the band.
"EMI released the title track backed by Ships And Sails as a single in May but the charts were dominated by glam and novelty acts and it failed to make any impact," he says.
"Full page ads appeared in the music press, too, but with few live dates booked the album lacked the impetus it needed to get sales going."
Changes were made to the rhythm section with former Taste drummer John Wilson and then Tim Posford on bass and Peter Woolf on drums joining the ranks.
A further session for BBC Radio One was in the can in August and work started on a second album when EMI decided to pull the plug.
"Reflecting on it we were probably out of time with what was happening in the UK back then," says Jim. "The American market would have been another matter, but it wasn't to be."
Jim McCarty went on to play with Illusion, Box of Frogs and Stairway as well as a reformed Yardbirds who he drums with to this day.
While Shoot missed the target to fulfil its potential, nothing can diminish the quality and entertainment value inherent to this day its impressive debut album.