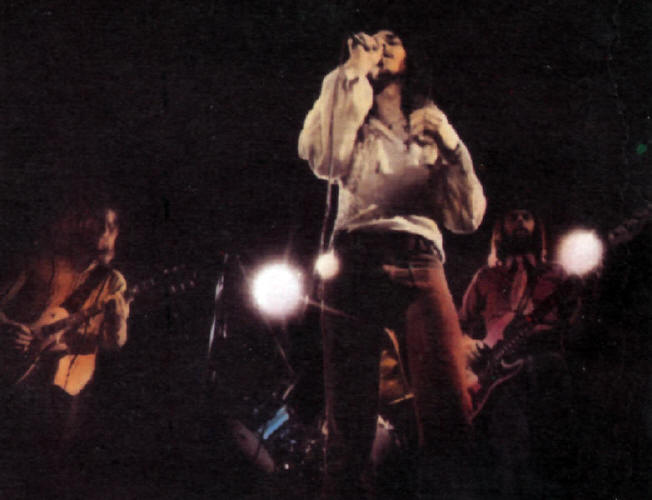 Kala – live at London's Marquee Club, 1973
During the period spanning late 1969 – 1972 Quintessence were one of Britain's most powerful and popular live acts.
In search of spiritual enlightenment, their music crossing the Grateful Dead and Hendrix with Ravi Shankar, Quintessence stood out from the crowd in every sense of the term.
When the band folded in 1972, lead singer and songwriter Phil 'Shiva' Jones and guitarist Dave 'Maha Dev' Codling formed Kala and the following year recorded this self-titled debut in London crossing the musical themes of its precursor with contemporary honeyed country rock and boogie.
Beset by personnel and label issues, Kala was gone a year later.
In 2003, Shiva Jones was to birth a new-age Quintessence along with Swiss multi-instrumentalist Ralph 'Rudra' Beauvert.
This Singsong reissue of Kala, remastered by Ron Geesin with bonus live tracks and new vocal takes from 2010, provides a fascinating glimpse into a creative force in transit in an overlooked gem of an album.
Artist: Kala
Title:   After Quintessence – The Complete Kala Recordings 1973

File:    Rock/Country
Format: Digital Album
Label: Singsong Music
Cat:     SINGSONG130
UPC:   5060683670506
Rel:     Nov 27th 2020
Tracks:
Travelling Home
Sun
Thirsty Generation
Pearl
Meditations
Still Got Time
Hallelujah
Honey Of Love
Bonuses
Come On Around To My House (live)
Before You Leave (live)
Going Down Slow (live)
Honey Of Love (live)
Meditations (2010 mix)
Still Got Time (2010 mix)