Singsong Music is delighted to be representing the music publishing and recording rights of composer and performer Marvin Ayres.
Cellist and violinist Ayres is a graduate of Trinity College of Music in London and a renowned composer of minimalist, ambient works. His music draws admiration from fans of a diversity of musical genres spanning classical, electronic, progressive and jazz.
All About Jazz's John Kelman wrote of him:
"When Brian Eno first began experimenting with tape loops, he may have known that he was creating something unique, but little did he realize how widely it would be embraced. Eno's primary intention with his ambient music was to create something that would, rather than being intrusive, blend into the listener's overall aural landscape.
"Since his early recordings, including Discreet Music and Music for Airports, Eno's vision seems to have grown legs, creating its own movement embraced by a larger body of artists. But the vast majority of those who have embraced Eno's vision seem to have missed the point. The lion's share of Ambient music today may have the hypnotic, trance-like quality of Eno's work, but it's often far too involving; demanding that it stay at the forefront of a listener's consciousness rather than become a part of his/her broader aural experience.
"Then there's Marvin Ayres. Classically trained, but with a pedigree that includes being a founding member of The Government, along with contributions to bands including Culture Club, Simply Red, Frankie Goes to Hollywood and Prefab Sprout, Ayres is a tripled threat, playing cello, viola and violin. In fact, he's actually more than a triple threat because, while he plays the acoustic instruments, he also uses their electric cousins and according to the liner notes to 'Neptune' views them as distinctly separate instruments.
He writes, "These are distinctive instruments from their acoustic counterparts, and do not sit happily as merely electric replacements. They have many advantages for a contemporary composer, which I have tried to exploit. Where their tonal range and response is limited, their microtonal quality and harmonics (that are normally virtually inaudible) more than make up for their 'natural' shortcomings".
"And so, Ayres utilizes these instruments, along with looping and other techniques available inside and outside the recording studio, to create compositions that fit within the Ambient music purview. Although, like some of Eno's best work, the atmospheres Ayres creates can comfortably blend into the sonic backdrop, they are also compelling pieces of music that can dominate and transport."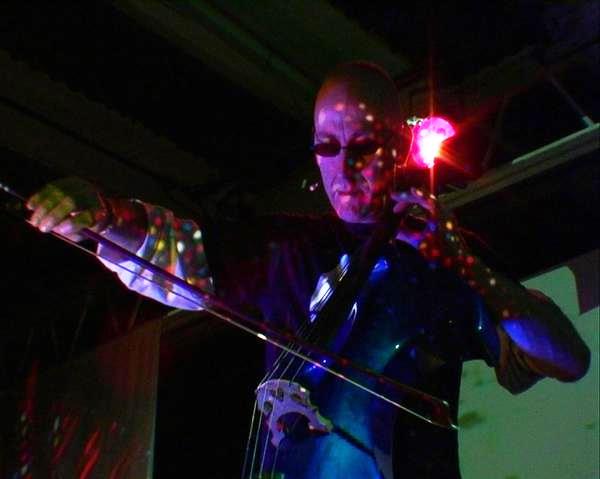 During his 20+ year career, Marvin has composed and recorded a diverse selection of albums incorporating spatial soundscapes and psycho-acoustics and latterly 5.1 Surround Sound, many of these created at his Wall of Waves Studio in London.
In addition to his work with musicians, Marvin also collaborates with visual artists on audio/visual installations, which have been exhibited in international galleries and art houses.
In 2000, the ICA (Institute of Contemporary Arts) in London commissioned him and film maker Pete Gomes to compose and produce their first ever DVD exhibition using two works, 'Sensory' and 'Cycle', incorporating spatial soundscapes and psycho acoustics and composed specifically for 5.1 Surround Sound.
He was interviewed about his composition and music in the 2010 documentary 'In Search of Sound' which won the best documentary award at the London Underground Film Festival and is screened in an ongoing programme of international film festivals.
Marvin Ayres has produced a number of film and TV soundtracks and his collaborations with film artists have been screened at London's Tate Modern, the ICA, The National Portrait Gallery and other international galleries and film festivals and featured on UK's Classic FM and BBC Radio 3.
Throughout 2021, Singsong Music is curating the reissue of Ayres' recorded catalogue including such critically-acclaimed releases such as 'Cellosphere', 'Harmogram, and the 'twins': 'Ultradian…' and 'Circadian Rhythms'.
https://en.wikipedia.org/wiki/Marvin_Ayres