NEIL ARDLEY'S A SYMPHONY OF AMARANTHS – Dave Gelly sums up…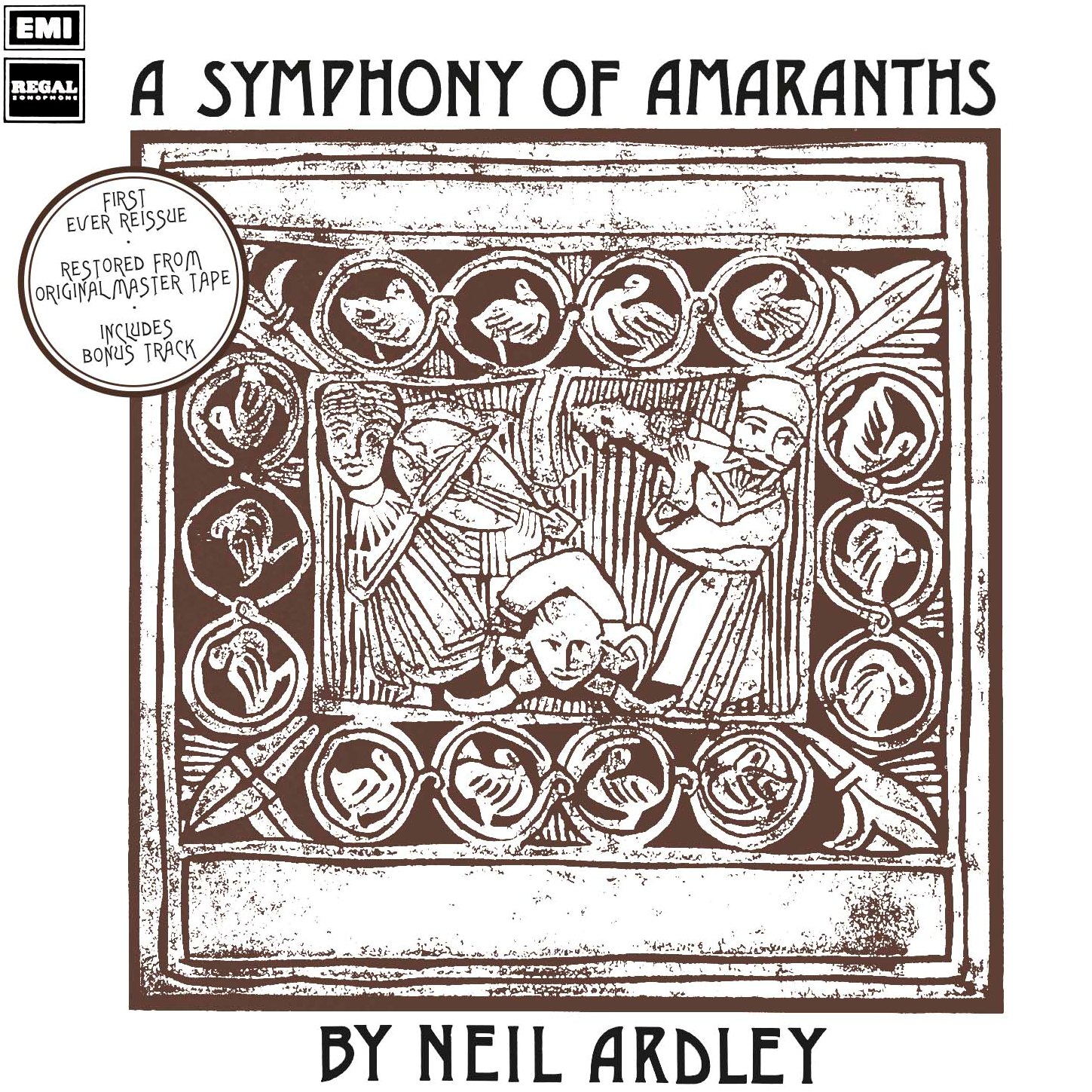 The amaranth is a flowering herb which produces everlasting flowers (named from the Greek amarantos, meaning 'unwithering').
It appears as a symbol of immortality in literature, notably in Aesop's Fables and Milton's 'Paradise Lost'. Neil Ardley dedicated his 'Symphony of Amaranths' to two jazz immortals, Duke Ellington and Gil Evans, and based the whole work on their initials – the sequence of notes DEGE .
It was recorded over several days in June 1971 at Lansdowne Studios in London, the second album under his own name and his most ambitious work to date. It was the first jazz record to be made with the help of a grant from the Arts Council of Great Britain.
Actually, by this stage in his development, the demarcation line between the 'jazz' and 'classical' idioms was becoming more theoretical than actual in Neil Ardley's work. This came about not by diluting the jazz content but by writing in such a way that jazz musicians could use their jazz muscles in new and exhilarating ways.
In the years since 1971 there has been so much publicist's tosh turned out on the subject of 'breaking down barriers', and our ears have been so assailed by bizarre and pointless concoctions, that you would be right to be suspicious. I can only ask you to listen to the music and see if you don't agree.
A glance at the personnel will show just how ambitious the piece was. All told, there are 29 players and, for the first time, the instruments include strings, harp, orchestral woodwind and such curiosities as harpsichord and glockenspiel. In fact, so complex was it that Neil handed the job of conducting to Jack Rothstein.
Violinist and conductor Jacob 'Jack' Rothstein (1925-2001) was rightly described in an obituary as 'one of the most versatile musicians of his generation'. A concerto soloist, sub-leader, under Menuhin, of the Bath Festival Orchestra, and a leading member of ensembles ranging from the London Mozart Players to André Kostelanetz, he was a man to be reckoned with. When Neil told me that Jack Rothstein would be conducting us, I confess that the idea scared me stiff. But not only was he a model of patience and consideration, he actually seemed to enjoy what we did, especially the amazing duet between Harry Beckett and Barbara Thompson which dominates the opening movement, Carillon.
Jack's violin takes the lead in the Nocturne section, giving way to a beautiful, bubbling trumpet solo from Henry Lowther. The string writing here is harmonically very dense. The tenor saxophone duet between Dick Heckstall-Smith and Don Rendell marks the high spot of the final movement, Impromptu.
The short interlude before it, entitled Entracte, is played by perhaps the most curious quartet ever assembled at Lansdowne Studios. It consists of Frank Ricotti (vibraphone), Sidonie Goossens (harp), Stan Tracey (piano) and myself (glockenspiel).
It was entirely improvised, the result of a spur-of-the-moment idea of Neil's, and we recorded it in one go while everyone else was at lunch in the pub across the road – with the exception of Jack Rothstein, who sat disconcertingly in a corner of the studio, consuming an avocado and a bottle of mineral water. Simply to be playing in the same studio as Sidonie Goossens, one of the most admired harpists of the century, was an unreal experience. She was then aged 72 and was destined to live to 105.
The glockenspiel? Neil learned that I had somehow acquired one and said he thought he might have a use for it. He didn't tell me that I would be called upon to play the very first notes of A Symphony of Amaranths on the thing, but when we turned up at the rehearsal, there it was in black and white – a series of fairly nippy descending scales, beginning completely solo, under the baton of Mr Rothstein.
Frank Ricotti glanced at the part and said something like, 'Cor! That's a bit of a roaster!' Which did wonders for my confidence.
But it's amazing what you can manage under the influence of blind panic. Frank gave me a quick lesson, I practised for about ten minutes and we were off. The result sounds fine – especially for a saxophone player. Sorry, but I'm quite stupidly proud of that.
The other side of the original album consisted of Neil's settings of poems – by Edward Lear, W.B. Yeats, James Joyce and Lewis Carroll. That's a British jazz speciality, by the way, creating music inspired by literary works. Not surprising, really, for the nation of Shakespeare and Dickens, but nobody seems to have commented on the fact.
It was a brilliant idea to get Ivor Cutler to recite The Dong With The Luminous Nose in his solemn, lugubrious, McGonagall voice. The music fits it perfectly, with its wandering, floating harmonies. And listen to Frank's vibraphone in the middle section for an example of how to incorporate jazz soloists into a larger, more expansive pattern.
Until I came to write these notes, I hadn't listened to the poem settings for years. They were tucked away in my mind as superior examples of Neil's writing, but listening to them afresh I am quite overwhelmed by their brilliance.
It's not just clever ideas or skill in orchestration; there's a depth of understanding that I simply do not hear in contemporary jazz composition of any kind – understanding of the text, understanding of individual players and their styles, sensitivity to atmosphere and the ability to express all this in sound.
Speaking as one who was involved in the whole process, I can say that I never felt more comfortable with the environment for a solo than with Neil's setting of After Long Silence. He just knew how one would respond and wrote accordingly. It could be just a few notes, but they felt absolutely right. 'Know the player' – that's one thing he took from Duke.
The finale, Will You Walk A Little Faster?, is the 'Lobster Quadrille' from 'Alice In Wonderland'. There's a joke embedded in it from the start, because who ever heard of a quadrille in 5/4 time? The whole thing is a triumph of bravura writing and playing, especially by the brass section and the soloists, Derek Wadsworth and Dick Heckstall-Smith.
And Norma Winstone was the only possible singer for these songs, all extremely demanding and very different in style and mood. I thought at the time that if someone had put out Will You Walk A Little Faster? as a single it might have scored a modest hit. It goes with such a swing, and Norma sings with such exuberance and delight, that it should at least have stood a chance. Perhaps it still might.
The re-mastering process took to finding our enjoyable little take on the National Anthem. It actually opens proceedings on the tape but didn't make it to the finished album. It's good to hear it again – and our mutual mirth after it.
Most of us were young when we recorded this music and, being young, it never occurred to us that we wouldn't all be around for ever.
But I listen to it now and hear the musical voices of friends which survive only in recorded form.
Harry Beckett, Derek Wadsworth and Dick Heckstall-Smith are unmistakable. I recognise them from the first few notes of their solos and the sound conjures up their living presence. Jeff Clyne, too, I seem to have known for ever and still can't quite believe that he's gone.
Others, such as Ivor Cutler, Alan Branscombe, Sidonie Goosens and Jack Rothstein, I only encountered on these sessions, but they were so celebrated in their various ways that their departure has left its mark.
Much of the best British jazz ever recorded, some of it far from commercially promising, only came into existence because of Denis Preston. That is certainly the case with Amaranths. It was recorded under his supervision, in his studio – a studio, incidentally, designed by another great British jazz figure, the late Sandy Brown.
Neil Ardley was a particularly close friend. We travelled together on slow Sunday trains and dodgy charter airlines to hear Duke Ellington, Gil Evans and Gerry Mulligan in person, and enjoyed every minute of each other's company.
Together with Ian Carr and Jon Hiseman, we plotted the redesign of the New Jazz Orchestra to keep up with Neil's evolving compositional ideas. He was probably the nearest thing to a genius I ever knew.
In my opinion, the Symphony of Amaranths and the poetry settings together constitute Neil Ardley's recorded masterpiece.
My small contribution to it I dedicate to his memory and the memory of those colleagues mentioned above.
Dave Gelly, London 2012    
Jazz musician, Dave Gelly writes about the subject in The Observer and other British newspapers and journals. He has written and presented many features for BBC Radio and hosted a weekly show on Radio Two. He was a leading writer on the Sony Award-winning ten-part BBC radio series Sinatra: Voice of the Century and is the author of several books, including Masters of the Jazz Saxophone (Miller Freeman, 2000) and Stan Getz: Nobody Else but Me (Backbeat 2002). He was named Jazz Writer of the Year in the 1999 British Jazz Awards and was appointed MBE in the 2005 New Years Honours.
Find out more about 'A Symphony of Amaranths'  via this link