Zorbonauts, the Anglo/Celtic/American progressive rock band formerly known as Jerusalem, bound back into the modern music space this July (2020) with latest album release, 'The Unobserved Beaver' (SINGSONG110).
With a line-up comprising the alumni of Spock's Beard, Tears for Fears, Asia, The Buggles, Yes, Big Big Train, Genesis, Jerusalem, Eric Burdon and Iron Butterfly amongst others, you know  Zorbonauts' latest album is going to have quality stamped through it. And you would be right.
The album sounds as good as the line-up looks. There's Lynden Williams (Jerusalem) – vocals, along with  Geoff Downes (Yes) – keyboards; Ollie Hannifan (Mister Kanish) – guitars; Nick D'Virgilio (Big Big Train) – drums & percussion; Dave Meros (Spock's Beard) – bass guitar; Rachael Hawnt (The Beautiful Secret) – vocals, along with guests Bob Cooke (Jerusalem) – additional guitars, and Rachel Hall  (Big Big Train, Stackridge) – violin.
'The Unobserved Beaver' stands up on its four furry feet as a masterpiece of invention and interpretation and is flecked deliciously by storming covers of Cream's  'Badge', and Hendrix classic 'Stone Free'.
Cover art is by the mega-talented Sarah-Jane Szikora. And that title? Well, take a look and work it out!
Following-up last year's 'Tall Tails', it maintains this star-packed act's remit to enchant, amuse and entertain crossing its own compositions with interpretations of some of the band's all-time favourite songs.
The name Zorbonauts may only have come into being in 2019 but this act's antecedents stretch as far back as 1971.
That's when hard rock band Jerusalem, with Williams and original guitarist, Bob Cooke, trod the boards.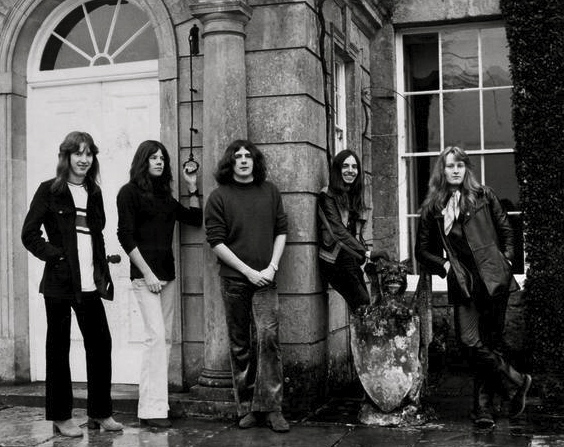 Jerusalem – 1972
Releasing its Ian Gillan-produced self-titled debut on the Deram label the following year, it promptly broke up but reformed in 1980, the two continuing to perform under a variety of line-up names until they decided to record a further album, prompted by Sony's reissuing 'Jerusalem' in its Rock Legends Series.
D'Virgilio and Meros from Spock's Beard were recruited along with Downes for the new album 'Escalator', released in 2009. Sadly ill-health stemmed Cooke's playing and Hannifan stood in, the powerhouse line-up recording two further Jerusalem albums.
                Which brings us up to the present day, and over to Lynden Williams for an observation of the 'unobserved'.
The Songs of 'The Unobserved Beaver':
Don't Give A Monkeys
2. Over The Chasm
3. Mississippi Summer
4. Shangri-La
5. Badge
Spiders' Rendezvous
7. My Death In Germany
8. Stone Free
9. Sick!
10. The Four Horsemen of Apocalypse
Says Lynden:
"We've got ten tracks here kicking off with 'Don't Give A Monkeys' which parodies internet warriors who spend their time asserting their genius to anyone unlucky enough to stray into their path. We can spot them!
"'Over The Chasm' is the first of three songs on this album to previously appear on our 'Escalator' release and for which we got paid nothing, thanks very much.
"It's an everyday tale of paranoia and we've kept Bob's rhythm guitar in place as a reminder not only of his work but also reflecting how the old two-guitar band might have sounded.
"Next up, 'Mississippi Summer' is a song I heard on an album called 'Freedom And Rain' by June Tabor And The Oyster Band. I love the fact that it just mooches along, held together by Rachael's wonderful layers of harmony vocals. The lyrics are great and it was fantastic to sing.
"Not every song on a rock album needs to slice your head open – sometimes you need some soothing ointment. And after the salve comes 'Shangri-La': it starts with a bit of jingle-jangle, and then the search begins for a fictional place that's akin to yet another fictional place, Utopia.
"OK, it's basically bubbling around in our own consciousness and we all know no such physical place exists, but for all of us old hippies it's somewhere we wish did.
"Another cover is 'Badge' – a great song and the best on Cream's 'Goodbye' album. We based this on the live versions they played at their reunion concerts at The Royal Albert Hall, London, in May 2005.
"We even went along with the long held chords, just to see what we could do with them. It all worked wonderfully. It's loose and sweet!
"The second of the 'Escalator' songs is 'Spiders' Rendezvous', topped and tailed by Bob's feedback guitar.
"It's based on my visit to the old Stirling coffee bar I used to frequent in my schooldays only to find it was all boarded up. I looked through a space between the boarding and to my horror discovered the interior of the café was covered in cobwebs – hence the song's title.
"The next song is autobiographical. Initially I wondered if this number would ever sound acceptable, as there was so much happening musically.  It was important that guitars and keyboards were equally heard, yet in early mixes they seemed to clash. Thankfully we turned a corner and everything dropped into place.
"Lyrically it's about Jerusalem playing two European festivals. At the second one, in Germany, I died on stage.
"Some people thought it was an electric shock, and Bob Cooke loved telling me that Dave Swarbrick, of Fairport Convention, was jumping up and down on my outstretched long hair, shouting, 'He's fookin' dead! He's fookin' dead!' (Bob told it with that precise accent).
"And that's 'My Death in Germany'. Luckily those were the days of American army camps in Germany, and lots of soldiers attended the festival, and American army medics manned a hospital tent. They got me going again: God bless America!"
"Bob Cooke once said he could never get into any album by someone he hadn't previously heard unless they played a good version of a cover song.
"I asked him what he wanted to cover. He said a Jimi Hendrix song. I suggested 'Stone Free', the third of the Escalator songs.
"The next song is based on The Holocaust – not a subject to dwell on – it's appropriately called, Sick! Thankfully it's delivered without any overbearing emphasis – just very matter-of-factly. Rachael puts in a sterling performance with her layers of harmony vocals sounding like a choir of angels."
"The greatest number Jerusalem played live but never recorded was 'The Four Horsemen of Apocalypse'. I misplaced the lyrics, however I remembered one of the verses and thought I'd start the number with that. The closing line of that verse is … "To find you're all alone".
"After that I thought I'd just wing it and do a bit of a stream of consciousness writing to see what would occur. In reality what you hear is what came pouring out. Not a word was changed.
"I asked Ollie if he could possibly pull it all together, and he did."
More on the album with links to streaming media  via this link