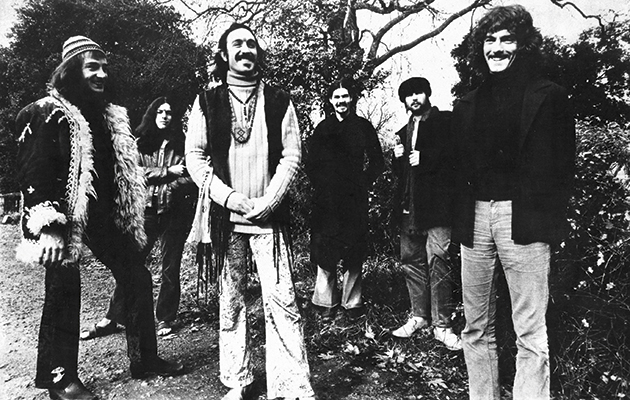 Original Quintessence line-up

Artist:      Shiva's Quintessence
Title:        Cosmic Surfer
File:          Progressive Rock/Psych
Originally released in 2005, 'Cosmic Surfer' was the first release by the refreshed progressive/psych rock band Quintessence. 
Helmed by former member Phil 'Shiva' Jones and music partner Ralph 'Rudra' Beauvert, it picks up many of the themes concerning its 1960s/'70s precursor, weaving humour, speech and satire into topics covering the global community today.
Electronica, rock and ambient/new age tropes are embedded into songs like "Reptilian Corporate Sign Language" that address the corporate greed of our times; "But What Am I?" is a Pythonesque take on alien abduction and our search for meaning; "Blue Is Beautiful" and "Everything Is Weird" focus on environmental issues while "Hollywood Guru" and "New Age Bread Head" send up the New Age Guru circuit.
Complementing these are exciting, contemporary reboots of some of the former band's finest moments including "Giants", "Ganga Mai" and "Cosmic Surfer" itself: bundling a forever entertaining, eclectic, essay in music and world politics, its concerns as relevant today as they were then.
Read the Quintessence story at  www.mooncowhq.ch/
Buy and Stream this album now  via this link
Track listing:
Reptilian Corporate Sign Language
But What Am I?
Dolphin Dreaming,
Blue is Beautiful
Didgeridoo Medicine Man/Om Namah Shivaya Chant
Everything is Weird
Blame
New Age Bread Head
Hollywood Guru/Hollywood Guru Show
Giants/Annunaki/White Powder Gold
Cosmic Surfer
Ganga Mai
Oasis
Sun
Hail Mary/Divine Mother Chant
Hallelujad
Sri Ram Chant/Hari Narayana Chant
Om Mane Padme Hum
More music from Shiva and Rudra via this link