Artist: Shiva Shakti
Title:   Shiva Shakti
File:     Rock/Psych/Ambient
"Bits of Eastern influence, modern techno and loops mixed in with some classic Pink Floyd stylings. The musicianship is of the highest standard on here, with a good mix of traditional instruments and electronic programming."  GET READY TO ROCK
"…such an excellent album. Spiritual… Psychedelic… Inspiring… Toe-Tapping… and cosmically Spaced." AURAL INNOVATIONS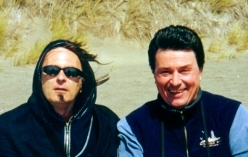 Beauvert (left) and Jones, helming Shiva Shakti in 2001
Dubbed 'raga rock' on first release in 2003, 'Shiva Shakti' was the eponymous release of former Quintessence vocalist, Phil 'Shiva' Jones and Swiss musician Ralph 'Rudra' Beauvert on keyboards, with guests on guitars, synths, drums and backing vocals.
Quintessence was one of Britain's most powerful and popular live acts of its day. In search of spiritual enlightenment, members converged on London in the late 1960s from different parts of the world, their music crossing the Grateful Dead and Hendrix with Ravi Shankar.
Unsurprisingly, the duo's 'Shiva Shakti' release is a blissed –out experience.
An ambient new-age meld of rock and electro-psych with spacey Eastern tropes, it borrows stylistically from Shiva's old band (the album includes five covers of Quintessence songs) while riffing trippy Indian pop ragas by way of symphonic prog rock.
Well-received on release, Jones and Beauvert were prompted to resurrect the Quintessence name, with more albums to come.
More on Quintessence via this link
Buy and Stream this album now  via this link
TRACKS
Notting Hill Gate/Magic Carpet Ride
The Seer/Do The Shiva Dance
High on Mount Kailash/Jaya Shiva Sambhu
More Than Meets the Eye
Shiva Shakti
Parvati Devi
Brahman
Orango Tango
Sea of Immortality/Jay Guru
Dark Brother